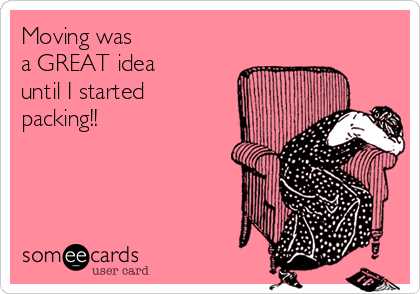 The most fearsome aspect of a move is the packing–just the thought of this daunting task may make you shudder.
Purge the junk
It's much easier to get organized and start the packing process if there are fewer things to pack. Downsizing is not only the best way to make your packing duties simpler, but it can help save money on a lighter load to haul.
Get your supplies
Before you begin packing, you will need to acquire the appropriate materials. You'll need the following:
Boxes
Packing paper
Packing tape
Markers for labeling
Bubble wrap for breakables
Start slow
Packing is a huge job, but there's no reason it has to feel that way. Set a deadline for yourself and then begin the packing process in advance so you can take your time and work slowly. This will alleviate the pressure of working furiously against the clock to finish your packing in time.
Pack least important to most important
Begin by packing things you don't use every day, such out-of-season clothing, books, DVDs and CDs, collectibles, knickknacks and decorations that have no utility or serve no purpose other than ornamental.
Be sure to label
Label each and every box with the room and contents immediately after you pack it. The entire process will be much easier and less stressful if know you have packed something already. It will also make unpacking a breeze